Autumn seasonal ingredients.
Ginnan(ginkgo nuts)
Ginkgo production area is west of the Nobi Plain, in Sobue in contact with the Kiso River, it produces about 70 percent of the country. When visiting the town, dotted with ginkgo Du is, the garden was meditating the fence there is a big tree of more than old several decades. In the big tree have paid off a large amount of ginkgo, I remember the excitement too much of beauty.
According to the Sobue, ginkgo is so made for disaster prevention for "Ibuki oroshi(strong wind from Ibuki)". Also it seems to have been planted in the Edo period in order to protect the roof from Ibuki oroshi. Ginkgo cultivation for the purpose of ginkgo production is from before about a hundred years, successful reason is, to suppress the weak growth of the tree first Ibuki oroshi to the contrary, is that the increased savings nutrients.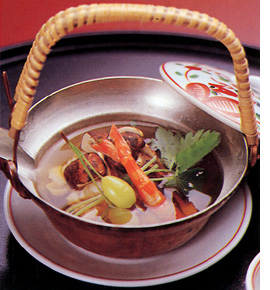 sited from "Irodori vol.41"
And summer of high temperature and high groundwater level is to increase the real, is said to have led to the ginkgo cultivation of quality.
The ginkgo of Sobue neighboring villages, Hisaharu, FujiKuro, Hyoe Kimu, there are varieties of such preferment. Above all, FujiKuro has a large well-grain taste, because there is also a savings-oriented, is what a high market value. Egg custard, ganmodoki, although the ginkgo to use, such as earthenware teapot steamed is a supporting role, ginkgo roast fit well to fish salmon, is a good leading role of flavor.
Made in late autumn, well ripe ginkgo Many also taste, luck enough boiled like a rice cake, you eat with a thin vine tailoring as a dumpling.
Hanagiku(chrysanthemum)
Early Meiji there in a short period of time, but the "chrysanthemum should not eat this because it is a symbol of the Imperial Family" Otasshi that the Akita, Aomori, there was a thing that came out informally in Niigata region. In particular, purple chrysanthemum, which has been a royal color were forbidden strongly, "Do not absolutely to eat." So where people are wearing the original, the name dare called "edible chrysanthemum" to this only in at least yellow chrysanthemum, it says to have been allowed to only yellow chrysanthemum eat.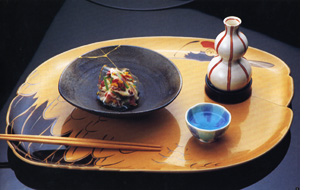 sited from "Irodori vol.04"
All kinds of chrysanthemum I have eaten, but it refers to the yellow chrysanthemum and say "edible chrysanthemum" even now. Like purple chrysanthemum still is referred to as the "have been chrysanthemum", has been the most delicious chrysanthemum.
Originally, chrysanthemum, but is what has been entered as an ornamental from China, there is no custom of eating in China. Cooking method is vinegar-soaked, chrysanthemum shifting to eat in the vinegared bean paste Preface in jelly, sweet cooked chrysanthemum minced, There are various salted, deep-fried food, tempura, and, in particular, tempura is also available also leaves flowers. It says that it is not to catch a cold in the winter and eat a lot of tempura of leaves of chrysanthemum in autumn. Boil when you finish in vivid colors and a little add the vinegar to the hot water. In the fall of the long night, it is what there may be taste even savor slowly liquor floated the petals of chrysanthemum.
Nasu(eggplant)
"Parent of opinion and eggplant flowers, not even one of the waste to the thousand," a young age and, I think many people that I remember that was brought up is said this? Eggplant, once blooming hundreds of flowers, will have hundreds of real, yet it does not have a fall rarely in the middle. If the place you do not bloom wasteful flowers, even for a one wheel is a good omen, Ichifuji, two hawks, it has been those that may look to the three eggplant and Hatsuyume.
Type of eggplant is dozens, Kyoto Kamo eggplant, Aizu round eggplant, Sendai long eggplant, Osaka of water eggplant, Matsudo of Sennari, nationwide there is eggplant specialties areas such as.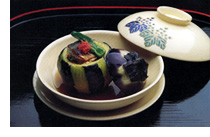 sited from "Irodori vol.04"
Timing of the relic becomes delicious and closed the taste, you may want to pickles also boiled also baked. When the boil along with the mushrooms and loach, will indeed autumnal dish, but the action is strong digestion is bad is the difficulty. Thus, the "autumn eggplant Do kvass to daughter-in-law" is the word of out of kindness.
Snipes (City Council) Did you know because baked. Monk of Zen Buddhism that hate the killing is, and want to eat the bird baked painted the miso eggplant, is that where the cooking likened to snipes sprinkle the fruit of poppy.
Ingredients of the mountain and the sea, which colors the autumn
Fall of food is abundant. Spring of matsutake to edible wild plants, mushrooms, such as wetlands and grapes and pears, chestnuts, fruits such as Akebia, fish mackerel, pike, sardines, Akimi (salmon) common people of fish (bottom fish), such as is in season Become.
Earthenware teapot indispensable to steamed matsutake, Kyoto Festival (Oct. twenty-two days era Festival) to the inherent of mackerel sushi (Osaka wind Battera), such as grilled saury also say originator of Salt-grilled, which decorate the autumn of appetite It is just to name a few.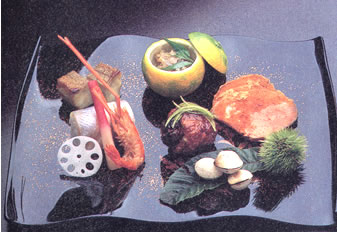 sited from "Irodori vol.38"
Haruo Sato of the poem "saury of Song" also is famous, saury is Toka shogun light in the storyteller is of such limited to Meguro. Lord that came to falconry with her servants is, in Meguro of peasant who was a monument of falconry, to satisfy the hunger My name is "want one bowlful tea fishing in the pike", born of the pike that was the first time food taste can not be forgotten, was at a later date and desired the pike to vassal, is that of a disappointed coming out that was elegantly cuisine unplug the ossicles off the fat steamed.
or example whether those ordered from any case, because Nihonbashi Fish Market, "it is useless. Pike as far as you in Meguro" it seems to have said. Pike burn to see the wife of the smoke (Seishi Yamaguchi)